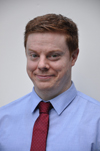 Mr. David Truman
Mr. Truman recently moved to Vancouver from Edmonton. He earned a Bachelor of Arts with a major in English literature and a minor in Mathematics from the University of Alberta. He then spent four years teaching English as a Second Language in the Seoul area of South Korea before returning to Canada to complete his Bachelor of Education at the University of Alberta.
The experiences teaching overseas have taught him many things about teaching, as well as the many of the difficulties those from other cultures face when moving to and living in a different country and environment.
In his spare time, he enjoys reading, movies, sports, and experiencing the Vancouver lifestyle.
Email: david.truman@pattisonhighschool.ca
---
Course Outlines
English Studies 12 Course Outline (Truman)
Literary Studies 11 Course Outline (Truman)
Pre-Calculus 10 Course Outline (Truman)
Career Life Connections (Truman)