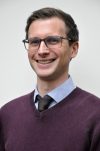 Mr. Ashley Roden-Bow
Dr. Roden-Bow has a PhD in Political Philosophy, a BA in British Politics and Legislative Studies, and a Postgraduate Certificate in Education, all from the University of Hull in the United Kingdom. His research interests include existential philosophy, political extremism and military ethics.
Previously, he has worked as a teacher and examinations officer at an international school in Portugal, and as a lecturer at a multinational military college in Estonia. As a relatively recent arrival in Canada, he is very pleased to be joining the Pattison High School community.
In his spare time, this teacher likes to read books with philosophical and political themes, listening to music (both loud and quiet), playing board games and walking around Stanley Park.
Email:ashley.rodenbow@pattisonhighschool.ca
---
English 9 Winter 2019
English 10 (Creative Writing_Spoken Language)
Social Studies 10
Social Studies 11