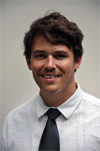 Mr. Arthurs completed his BA: Sociology from Thompson Rivers University in 2015.
His academic pursuits include: Career Education, Clinical Sociology, Life-Course Development, Mentorship, Research Methods, Social Problems and University Preparedness.
Mr. Arthurs also researches: Criminology, Deviance, Identity, Law, Macro Sociology, Policy and Popular Culture. Personally, Mr. Arthurs participates and is a fan of music and sports.
Overall, Mr. Arthurs is elated to be apart of the Pattison team!
Email: shayne.arthurs@pattisonhighschool.ca
---