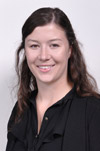 Ms. Danielle Egan
Ms. Egan has recently moved to Vancouver from Ireland. She holds a Bachelor of Arts degree in Mathematics and Geography and a Professional Masters of Education from Maynooth University, Ireland.
She taught for several years in Ireland before moving to Vancouver, and has worked at Pattison High School for several semesters. She is enjoying teaching in a multi-cultural environment and learning about diverse cultures.
In her spare time she is enjoying experiencing Vancouver and its surrounding areas.
Email: danielle.egan@pattisonhighschool.ca
---
Course Outlines
Pre calculus 11 student handout winter 2019
PreCalculus 12 Student Handout Winter 2019
Career Life Ed student handout
Pre-Calculus 10 Student handout winter 2019