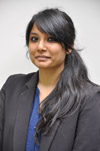 Ms Subramaniam has an honours Bachelor of Arts degree in English, a Masters of Arts in English, and a Bachelor of Education in Secondary/IB English from UBC.
Her professional practice includes teaching English and ESL in Singapore,   as well as working in Vancouver. She also has a keen interest in mental health awareness and special education. She finds that her work as a peer counsellor in India , and her research in mental health conditions in the classroom, makes her a more well rounded educator.
Ms Subramaniam was raised in a multilingual environment and speaks four Indian languages. Since the formative years, she has learned Japanese and Spanish. In 2017, she is taking higher level Spanish exams because she is always trying to learn and improve her practice.
Email: jyotsna.subramaniam@pattisonhighschool.ca
---
English 11 Student Directed Outline Spring semester 2019
English 12 Student Directed Outline Spring semester 2019
Career Life Education Spring semester 2019