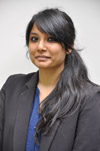 Ms Subramaniam has an honours Bachelor of Arts degree in English, a Masters of Arts in English, and a Bachelor of Education in Secondary/IB English from UBC.
Her professional practice includes teaching English and ESL in Singapore,  as well as working in Vancouver. She also has a keen interest in mental health awareness and special education. She finds that her work as a peer counsellor in India , and her research in mental health conditions in the classroom, makes her a more well rounded educator.
Ms Subramaniam was raised in a multilingual environment and speaks four Indian languages. Since the formative years, she has learned Japanese and Spanish.
Email: jyotsna.subramaniam@pattisonhighschool.ca
---
Student Directed Course Outlines
Literary Studies 10 Winter 2022
Literary Studies 11_Winter 2022
English Studies 12 Course Outline Winter 2022